---
History
---
Founded by Doomnova, the KDC is a clan that has stood the test of time. From what I know, it is the oldest Clan still alive in Spore. After being closed, the KDC was re-opened by Goober09 and GloxInTheBox. Then, once again reopened by issenkraal. Although there was some dispute over the threads, it eventually died down. Issenkraal unexpectedly left KDC on September 29, 2009. With the help of me, and 19Phoenix93, we were able to continue to keep KDC alive. Goober09, the old leader took over after seeing some revival. Issenkraal returned to the Sporum on March 13, 2010. The vote was cast and we realized that issenkraal should share leadership with Goober09.
---
About Us
---
Knurldowns are a detail part that cost 75 DNA. --->
In KDC, we use this part constantly. In fact in our average lifetime, we use this part
at least a zillion and 3 times.
For example:



As you can see, KDCs are generally shiny and blue. But, that is not always the case:


Once you are worthy enough to join KDC, you will be able to move up in rank. We are just average Spore creators. Or a little bit more than average. So basically, we're all just a bunch of whack-jobs creating like crazy. Just kidding.
For more interactive information, please play this adventure:
What is KDC
---
Clan Ranks, their meanings, and Rank Points
---
The first creature you enter to a contest will gain you RP, or Rank Points. With enough RP, you gain a promotion. RP you gain from entering a contest is 5. RP for a KDC Adventure is 3. RP for a non-contest creature is 1. You can win a lot RP in contest.
Founder - The ultimate leader of the clan.
Clanmaster - The right and lefts hands of the Founder, who decide contests with him and vote for the winners. There can only be a few Clanmasters at a time, but if more are needed, Elite Members with enough points will be promoted. [RP Needed: 500]
Elite Member - A skilled member of KDC. [RP Needed: 100]
Member - A member of KDC. [RP Needed: 25]
Newbie - A new member of KDC, who hasn't yet won any contests. [RP Needed: 0]
Outcast - A banned member, these aren't our friends. No one wants to have this rank!
---
Clan Rules
---
1. Respect other clan members.
2. Comment and rate the creations of other clan members as usually as possible.
3. Use as much knurldowns as DNA and complexity allows!
4. If you don't win, don't whine about it; no one wants to demoted or even... banned from the clan.
5. Also don't SPAM the clan thread or flame in it. This will also lead to demotion or a ban.
6. Remember to name all creations KDC_>creature name<. Otherwise, they won't be good!
7. You are allowed to enter as many creations as you want. addDNA, freedom, asymmetry, everything is allowed, as long as you are able to share the creations.
8. Have fun!
---
Sponsor
---
The KDC is a proud sponsor of the Taco Fan Club.
---
Hall of Fame
---
Challenge: KDC_Weapons of Mass Destruction
Winner: 1st place: Thobewill. 2nd place: Dino589. 3rd place: Mavor
KDC_Chuck Norris
Challenge: KDC_Sport
Winner: 1st place: Mavor. 2nd place: MaudDibb. 3rd place: Jbman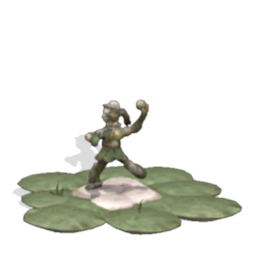 KDC_Girls Fast Pitch
Challenge: KDC Plant
Winner: 1st place: Mavor. 2nd place: MELONLORD. 3rd place: Issenkraal.
KDC_Wonderland
Challenge: Cannon Fodder
Winner: 1st place: ELolli. 2nd place: gastje. 3rd place: Isandil.
KDC_Minion
Challenge: KDC Avatar
Winner: 1st place: Rantalia. 2nd place: Werderfan2012. Third place: Ursidae.
KDC_Rantalia
Challenge: KDC Boss
Winner: 1st place: Thobewill. 2nd place: ELolli. Third place: abadaba18.
KDC_Boss Xavix
Challenge: KDC Animal
Winner: 1st place: Mavor. 2nd place: Thoebewill. Third place: Rantalia.
KDC_Gopher
Challenge: KDC_Render
Winner: 1st place: Issenkraal. 2nd place: 19Phoenix93.
KDC_Demon Hound
Challenge: KDC_Dracon
Winner: 1st place: 19Phoenix93. 2nd place: Vektrix. 3rd place: Bossdog.
KDC_Dracon
Challenge: KDC_Transformer
Winner: 1st place: Bossdog. 2nd place: gremlinbob. 3rd place: 19Phoenix93
KDC_Rick-Prime
If you wish to join, please go to the other topic above.
Any comments and questions should be posted below.
We hope you enjoy your stay at KDC.